Nor'easter darkens Sandy-struck New York, New Jersey. But sunshine is next.
A powerful nor'easter battered Sandy-wrecked communities Wednesday, causing about 100,000 new power outages. But the weekend forecast calls for clear skies and 70-degree temperatures.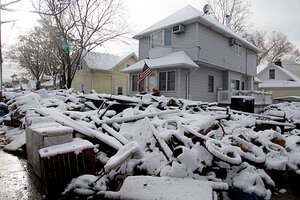 Seth Wenig/AP
Back-to-back storms that brought misery to millions in the Northeast over the past 10 days will finally relent and give way this weekend to clear skies and 70-degree temperatures – likely to lift spirits and boost morale for what promises to be a lengthy cleanup and recovery.
A week after superstorm Sandy barreled up the East Coast, a powerful nor'easter on Wednesday dumped up to a foot of snow on interior parts of New England and battered storm-wrecked coastal communities with up to 60 mile-an-hour gusts. By Thursday, it began to recede out into the Atlantic. On its coattails are riding high clear skies and warm temperatures for most of the region.
"Things are pretty much winding down," says Charlie Foley, a National Weather Service meteorologist in Taunton, Mass. "The storm itself is offshore heading for Nova Scotia, so its impact on us will be minimal – just some lingering rain showers and wind advisories until about 3 p.m. [Thursday] afternoon. But all in all, it's pretty much history."
Hastily reinforced dunes along the New York and New Jersey coast helped curtail any further flooding in the region from the nor'easter, and overall damage from the second storm was minimal, authorities say. But for many of those who lost power and even homes in superstorm Sandy, the cold, wind-driven rain and snow was another blow.
---