Supreme Court to rule on scope of federal powers in Voting Rights Act case
A landmark civil-rights-era law will come before the US Supreme Court later this year, when the justices will consider if Congress was out of bounds in renewing a part of the Voting Rights Act.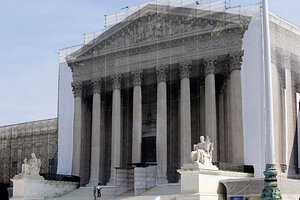 Alex Brandon/AP/File
The US Supreme Court on Friday agreed to examine whether Congress overstepped its authority in 2006 when it extended for 25 years a key portion of the Voting Rights Act.
In announcing that it would take up an appeal filed by Shelby County, Ala., the high court is significantly boosting the profile of its current term. The justices have already heard a potential landmark case concerning the constitutionality of race-based affirmative action programs at state universities.
Now the court appears prepared to decide another potential landmark case examining the federal-state balance of power, and whether Congress acted within its constitutional authority in reauthorizing the civil-rights-era law.
The action comes three days after President Obama, the first African-American president, won reelection. And it comes several months after Mr. Obama's Justice Department used Section 5 of the Voting Rights Act to block newly enacted voter ID laws passed by Republican-controlled legislatures in Texas and South Carolina.
The laws had been patterned on a similar measure in Indiana that was upheld in 2008 by the US Supreme Court.
The Voting Rights Act (VRA) is considered one of the government's most effective measures to promote and protect civil rights, and is sometimes called the crown jewel of the civil rights movement.
---