Morsi seizes broad powers in Egypt: What does US do now?
A decree this week by Egyptian President Mohamed Morsi essentially makes him a dictator, critics say. They call for US action. But the Obama administration might give him some leeway.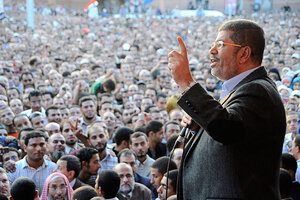 Egyptian Presidency/AP
Egyptian President Mohamed Morsi's decision this week to make himself above the rule of law has put the Obama administration in a tight spot.
Mr. Morsi, who has links to Islamist groups looked upon with suspicion by the West, was never Washington's first choice to lead a post-Arab Spring Egypt. But President Obama made a clear choice to allow the Egyptian people to chart their own course, thinking that interference would only undermine the goal of a truly democratic Egypt.
Now, it seems, that choice could potentially blow up in Mr. Obama's face. A day after brokering a cease-fire in the Israel-Hamas conflict, Morsi took a step that could make him as much of an autocrat as his US-friendly successor, Hosni Mubarak. The implication for US and the West seemed clear: peace with Israel, but at the price of Egyptian democracy.
The Washington Post's Jennifer Rubin summed up the worst American fears in her Right Turn blog: "The Arab Spring in Egypt looks a whole lot like the Hosni Mubarak tin-pot dictatorship, minus the secularism, good relationship with Israel and reliable partnership with the West. In other words, Egypt now may have Mubarak-style oppression plus Islamist rule."
---