Want to stay on the coast? Homeowners weigh post-Sandy elevation.
As homeowners consider long-term solutions for superstorm Sandy damage, they may have to raise foundations – or move. Some flood experts say the latter may be the wiser course of action.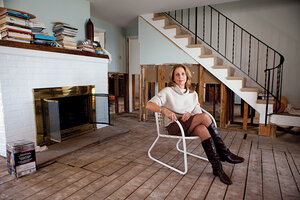 Melanie Stetson Freeman/Staff
A year ago August, the storm surge from tropical storm Irene pushed six inches of water through Fred and Lisa Clarke's two-story beach cottage on the banks of the Norwalk River in Connecticut.
Just after the Clarkes completed getting the house back the way they wanted it, superstorm Sandy pushed 18 inches of water through their living room.
For the Clarkes, it's been two floods and lots of dirty work and tears.
"I think we're going to elevate the house," says Ms. Clarke, as she looks at the bare planking on the great room floor. "We just don't know how high we will have to go."
The Clarkes are among tens of thousands of homeowners whose abodes were flooded by Sandy and who are now trying to figure out a long-term solution.
Do they rebuild thinking the storm was just a freak of nature and not likely to happen again? Do they reach deep into their pockets to hire architects and contractors who can try to stormproof their homes? Or do they throw in the towel, allowing Mother Nature to take over their property?
The answer is a complex mix.
The Federal Emergency Management Agency is likely to review where the floodwaters ended up to see if it needs to change the agency's approximation of the boundaries of a 100-year flood. Local officials will wait until that FEMA verdict comes in before looking at zoning. Still, in any event, local officials are likely to give some kind of green light for those homeowners who decide they want to rebuild.
"Barring imminent health and welfare issues, no one will prevent them from rebuilding," says Marc Roy, a former FEMA official who is now an adjunct professor of disaster management at Tulane University in New Orleans.
But should they?
---