Sandy Hook: Motive still a mystery as community holds first funerals
Police in Newtown, Conn., say they have 'solid evidence' that may help explain why Adam Lanza went on a rampage at Sandy Hook Elementary School, but a 'clear picture' likely is 'months' away.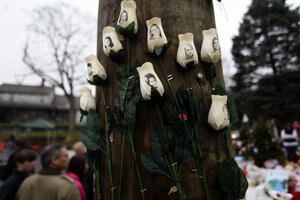 Joshua Lott/Reuters
Police in Newtown, Conn., have "solid evidence" that may help to explain why a socially withdrawn 20-year-old named Adam Lanza brutally murdered 20 children and six women at Sandy Hook Elementary School on Friday. Yet it's likely to take "months" for a "crystal clear picture" to emerge, Connecticut State Police Lt. Paul Vance told reporters Monday.
"I know that the people of Newtown want to know what happened, but our intent is to paint a crystal clear picture and that's not something that can be done in 60 minutes," said Vance.
The question of motive is a major barrier, locals say, for a stunned, grieving community that was struggling Monday to understand Lanza's act as it began to bury its slain children.
The central unanswered question – why? – took on national import, as well, with polls showing that Americans, for the first time following a mass shooting at a school, saw the Sandy Hook massacre not as an isolated incident, but as evidence of something dark, troubling, and wrong in US society.
---