Since Sandy Hook shooting, jitters in other schools – some for good reason
At least two students have been arrested for alleged violent plans. But at a North Carolina university, sightings of an assault rifle turned out to apparently be a long black umbrella.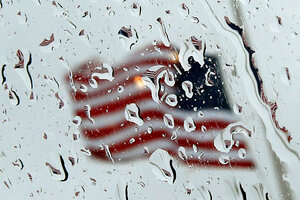 Mike Segar/Reuters
For the past week, there's been a spike in reports of arrests and school closures due to threats of violence, rumors of guns and attack plans, and sightings of suspicious people.
It's a predictable pattern, school-safety experts say.
"After every school shooting that we've had, we've seen a wave of threats across the country," says Kenneth Trump, president of National School Safety and Security Services in Cleveland.
"The majority of the threats in the past have turned out to be kids who make some very poor decisions and fail to recognize that what they view as a prank or a hoax is very likely to lead to their expulsion and prosecution," Mr. Trump says. "However, all threats have to be treated seriously. You also have a small group of individuals in society ... with mental-health [or other] issues who are predisposed to potentially be violent, and a high-profile incident like Sandy Hook ... could push them over the top to act on their plans."
Some of the incidents that have taken place in the week since the Sandy Hook Elementary School shooting:
• At Council Rock High School South in Holland, Pa., student reports of a fellow student's threatening statements led police to arrest a ninth-grader Thursday. Two 9-mm handguns were in plain sight in the boy's bedroom, and he was taken into custody, police say. The school canceled classes Friday so police could search the building. The Council Rock district is headquartered in Newtown, Pa., though police say there's no indication the student mentioned the Newtown, Conn., shootings.
---