Deportations of illegal immigrants in 2012 reach new US record
The Obama administration deported at least 400,000 illegal immigrants in fiscal year 2012, a new record. It emphasizes deporting 'criminal aliens' to protect public safety, but the high figure serves to remind Latinos of the president's unfilled pledge to reform immigration policy.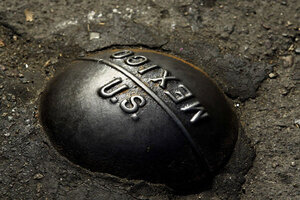 Mike Blake/Reuters/File
The United States deported more than 400,000 illegal immigrants in 2012, the most of any year in the nation's history, US Immigration and Customs Enforcement (ICE) reports.
The record number, released Friday, is also important for another reason: It is a stinging reminder to Latinos that President Obama failed during his first term to pursue the comprehensive immigration reform that they seek.
The Obama administration framed its 2012 work in immigration enforcement as focused mainly on criminals – 55 percent of deportations came from convicted criminals, a record high – rather than on indiscriminately rounding up illegal immigrants and sending them home. ICE on Friday also issued new detention guidelines intended to emphasize legal action against those who have committed crimes above and beyond immigration violations.
"While the [fiscal year] 2012 removals indicate that we continue to make progress in focusing resources on criminal and priority aliens, we are constantly looking for ways to ensure that we are doing everything we can to utilize our resources in a way that maximizes public safety," ICE Director John Morton said in a statement.
In four years, the Obama administration has deported three-quarters of the number of people that President George W. Bush's administration did in eight. And unlike Mr. Bush, Mr. Obama made no concerted effort to reform the US immigration system – a history that's not lost on the president's Latino supporters.
---