Let it snow? Christmas may be white in Northeast, southern Plains, Seattle
Snow on Christmas Day marks the start of a week of wet and wild weather through much of the US, including more of the white stuff. Here's where residents will want their shovels and sleds.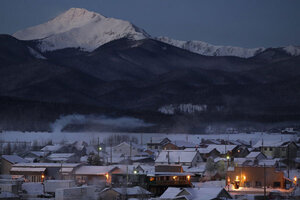 Brennan Linsley/AP
Most Christmas Day travelers will be able to get to Grandma's house without needing to throw a set of tire chains in the trunk. But not everyone.
Residents of places like Oklahoma City and Tulsa, Okla., can expect six inches or more of the white stuff. Dallas may see a light dusting of snow. And St. Louis, which often misses the worst of the snow storms, may have to crank up the salt spreaders after all.
In the Northeast, meanwhile, a weak weather system may deliver a light coating of snow by Christmas morning to the suburbs of Philadelphia, New York, and even Boston. Roads are likely to be slick, but not impassable.
On the West Coast on Christmas Day, residents in the hilly suburbs of Seattle may also be scraping snow off their windshields. Through the day that snow will spread into the Cascade mountain range in Oregon and, perhaps, northern California.
---