Tornadoes and deaths in its wake, powerful winter storm aims at Northeast
Cleveland, Erie, and Buffalo can expect up to a foot of snow, as can areas of northern New England, from the winter storm. For coastal cities: high winds, power outages, and travel delays.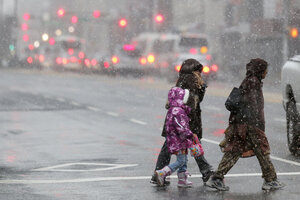 Julio Cortez/AP
A powerful winter storm that has been blamed for causing six deaths and spawning more than 30 tornadoes is getting ready to dump a significant amount of snow from Cleveland through western New York State and into northern New England.
However, most of the large urban areas will be spared the worst of it – instead getting heavy rain and dangerous winds.
"It will be a stormy night on the East Coast," says Tom Kines, senior meteorologist at AccuWeather.com in State College, Pa. "The major cities could get wind gusts over 40 miles per hour and along the coast the gusts could be over 50 miles per hour."
With its strong winds and potential for icing, the storm could lead to power outages, dangerous driving conditions, and lengthy airport delays.
"Definitely with the winds up, there could be some power outages from falling limbs," says Mark Ressler, lead meteorologist at The Weather Channel in Atlanta. "And, it looks like with all the snow, people could have difficulty getting around for a short period of time."
Wednesday morning, parts of Indiana were under blizzard warnings. Those conditions were expected to spread into Ohio, Pennsylvania, and western New York State during the day. The extreme conditions are expected in New England by Wednesday night.
---