'Happy hacker' arrest: Did police just nab a cyber crime 'botmaster'?
An Algerian arrested at an airport in Thailand this week has defrauded 217 banks worldwide of tens of millions of dollars, Thai officials charge. They also say the FBI has been hunting him for three years.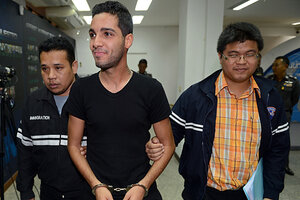 Pornchai Kittiwongsakul/AFP/Getty Images
American and Thai authorities may well have jointly scooped up one of the world's top 20 bank-hacking criminal masterminds, someone who is part of a global cyber-conspiracy to commit bank fraud to the tune of $100 million. Or, the man arrested in Bangkok on Sunday may simply be a happy-go-lucky guy with a bunch of computer equipment and an odd sense of humor.
How else to explain the capture of the quirky Hamza Bendelladj, whom news reports call the "happy hacker" for his post-arrest sunbeam-bright smile, seeming almost pleased to be in custody?
Whether walking handcuffed with police through the Bangkok airport where he was captured or whether sitting later at a police press conference, the 24-year-old Algerian – characterized by Thai police as a cyber bank robber who defrauded hundreds of banks of millions of dollars through online fraud – kept right on grinning.
Mr. Bendelladj only smiled when Thai police alleged he had infiltrated the computer networks of 217 banks – and then stole tens of millions of dollars. The "tools of his trade," police officials claimed during the press conference, lay on a table in front of him: two laptop computers, a satellite phone, external hard drives, and other equipment.
Authorities also allege that Bendelladj's chief tool was a nasty piece of malicious software – a criminal banking trojan program called SpyEye. Used in conjunction with phony Web pages, SpyEye was deposited on the computers of unwary visitors to those websites from December 2009 to September 2011, according to a report in the Nation, a Bangkok news website. After credentials were harvested, Bendelladj could invade a bank account and drain it, authorities allege.
---