Will a makeover improve the GED's value?
With a focus on real-world applicability, the forthcoming new GED test is designed to improve students' college and career readiness. But some critics worry that the cost will limit access for those who most need it.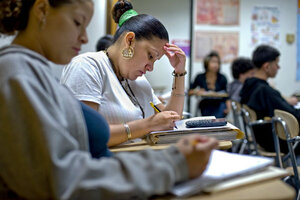 Ann Hermes/The Christian Science Monitor
An estimated 40 million US adults have not finished high school.
Every year, about 800,000 people take GED tests, and more than 400,000 succeed in earning the GED, a high school equivalency credential that's recognized in all 50 states.
But "the value of the GED is in question," says Jonathan Zaff, director of the Center for Promise, a research center based at Tufts University in Medford, Mass., and sponsored by America's Promise Alliance, a youth-advocacy coalition.
Some research finds that, economically, GED-holders tend to fare about as well as high school dropouts with no GED, Mr. Zaff says. That may be one reason the GED is undergoing a transformation – the biggest in its 70-year history. And it's stirring up controversy along the way.
The new test is designed "to embrace the college- and career-readiness standards" that states have been adopting, says Randy Trask, president of GED Testing Service in Washington.
The test will roll out in January 2014, so people preparing for the current GED have just under a year to finish up.
Test-takers will be required to show how they can use what they've learned to solve real-world problems, Mr. Trask says. Also, the test will be computerized, he says, a delivery system that some states have already begun to adopt.
The plans have raised concerns about educational access – especially since the new tests, as well as a new cost structure, coincide with a private company becoming involved in the GED tests for the first time.
---