Sandy Hook 'truthers' harass Newtown man, conspiracy theories go viral
Sandy Hook truthers have attacked Gene Rosen, who took in six terrified children right after the shooting. The conspiracy theories stem from a distrust of government and media, among other things.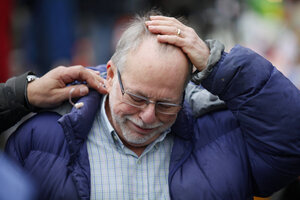 Joshua Lott/Reuters
With talk of a second shooter, Israeli death squads, and connections to "The Dark Knight Rises," the Sandy Hook shooting has joined the ranks of other tragedies associated with conspiracy theories.
Just days after 20 first-graders and six adults were shot and killed at the school in Newtown, Conn., alternative theories and wild claims began circulating. In recent days, one Newtown man who helped survivors of the shooting has come under attack.
Some of the conjectures have arisen out of distrust of the government and media outlets. In other cases, they've gotten traction because they offer an explanation, when the "why" of the shooting has been elusive. A desire to deflect blame, for example away from guns, could also be at work.
In almost all instances, the Internet has been key to the claims' proliferation.
"The Web seems to be the new home of the conspiracy theory. It's where conspiracy theories live, because the Web is so good at virally spreading around these kinds of little stories," says Jeffrey L. Pasley, an associate professor of history at the University of Missouri in Columbia, where he teaches a class on conspiracy theories.
Individuals questioning the mainstream account of events have already been dubbed Sandy Hook truthers. They're turning to websites like SandyHookHoax.com, questionable photos, and YouTube videos that take issue with reporting on the day of the shooting.
---