How Ray Nagin became the first New Orleans mayor to face bribery charges
New Orleans has a long, colorful history of corruption, but some see a post-Katrina change in attitudes with the indictment Friday of former Mayor Ray Nagin on 21 corruption and bribery charges.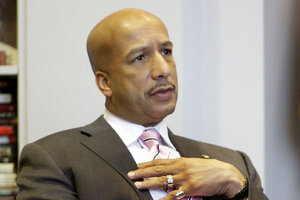 AP/File
A youthful Ray Nagin, a New Orleans cable executive, breezed into the mayor's office in 2002, bent on reforming what was perceived as a corruption-plagued administration run by former Mayor Marc Morial.
Even at the outset, New Orleanians didn't hold their breath. The fabled port city and its swampy skirt, from its inception, has been characterized, even celebrated, as a den of vice, corruption, and pay-to-play, with sinful indulgences played on a repeating loop behind the city's Old European façade.
Indeed, instead of breaking corruption's hold on City Hall, Nagin, who became the face of the city in the tragic aftermath of hurricane Katrina, allegedly got caught up in it. On Friday he became the first New Orleans mayor ever to face corruption charges, which consisted of 21 counts of bribery, conspiracy, money-laundering, wire fraud, and filing fake tax returns.
For many New Orleanians, the fact that a grand jury indicted Nagin for actions long-embedded in New Orleans culture and history seemed to underscore a building impatience and fading tolerance for poor governance in the wake of Katrina.
Mayor Mitch Landrieu, who won election in 2010 on a reform and competence agenda, said Friday that "public corruption cannot and will not be tolerated."
---