Martin Luther King Day: How far is America along road to the 'dream'?
Problems that disproportionately beset black Americans – poverty, broken families, prison time – have barely nudged during the Obama administration. But Martin Luther King Day is also an occasion to recognize progress for the black community.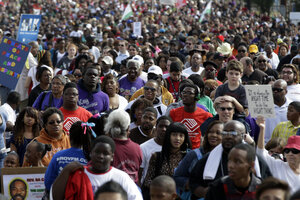 Eric Gay/AP
President Obama began his second presidential term on Monday by laying his hand upon two Bibles: One was used by Abraham Lincoln, the other belonged to the Rev. Martin Luther King Jr., the "traveling" Bible that the civil rights leader carried on marches.
Those two volumes are symbolic bookends to America's past 150 years, especially when combined with Mr. Obama's own achievement as the first African-American president of a former slave nation. But if Lincoln helped America correct its course by emancipating the slaves, it's Dr. King's "dream" of equal rights and a color-blind society that seems more fundamental today – Martin Luther King Day – as America's first black president begins another four years at the helm of the world's most powerful republic.
To be sure, Obama has had to carry the burden of black America's continuing problems, and his legacy may yet be tainted by the economic malaise that has idled nearly one-quarter of all able-bodied black workers – an unemployment rate twice that of white America. Other problems that disproportionately beset the African-American community – poverty, broken families, high incarceration rates – have also barely nudged under Obama. And in some political quarters, racial tensions have ticked up under Obama.
Yet as Americans take stock of the moment, the change that has swept across the country in the four decades since the onset of the civil rights movement is stunning and a testament to an inherent American goodness that King recognized and reinforced in his speeches and marches.
"We are far from achieving the perfection of Dr. King's 'Dream' but that is no reason to ignore how far we have come," writes Fox News contributor and Washington media veteran Juan Williams, who is black. "Even now, as we see shifting demographics seeding racial tension in some precincts, the country is still moving forward. The United States is a good country. This nation still labors to achieve the vision of Dr. King and President Reagan – the shining city on a hill."
---