Immigration reform: Will 'amnesty' produce more illegal immigration?
Supporters of immigration reform that includes of a path to citizenship say that the US is not as attractive a destination as it once was for illegal immigration.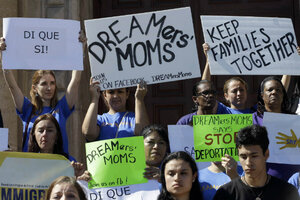 Alan Diaz/AP
Immigration reform is in the air. A bipartisan Senate group unveiled its proposals on Monday, and the president is scheduled to announce his own package on Tuesday. Both contain provisions for legalizing some 11 million undocumented immigrants now in the US.
But, just as there promises to be no easy consensus on a final deal, there is little agreement about how much the overall reforms will actually stem the flow of illegal immigration across America's borders. Critics of the proposals say a path to citizenship invites more undocumented migrants, while supporters of the move to legalize many who have lived and worked in the US for years say it is not an open invitation to new illegal immigration.
Critics point to the lessons from the last time Congress tackled his issue, the Immigration Reform and Control Act (IRCA), a 1986 law that legalized 3 million undocumented immigrants. Both sides acknowledge the law produced substantial fraud, leading to nearly triple the number of new residents created by the law.
"The message will go out," says Ira Mehlman, Seattle-based national spokesman for the Federation for American Immigration Reform (FAIR), "telling people to bring their rent receipts and pay stubs real or not." The situation will be a replay of the 1986 law, only on a larger scale, he says. It's simple math, says Mr. Mehlman, adding, "how can you possibly do background checks on 11 million people? It just won't happen."
---