On battered Jersey shore, Sandy victims struggle with costs of climate change
Before Sandy hit, FEMA was redrawing its flood-risk maps to account for rising sea levels connected to climate change. The result: Rebuilding in some places has become much costlier.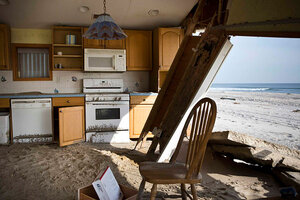 Andrew Burton/REUTERS/File
Nearly three months after superstorm Sandy inundated their house with five feet of water, retirees Brian and Dorothy Beebe went to the town hall here, clutching a survey of their home stuffed into a brown envelope, eager to repair their split-level home along New Jersey's shore.
When they left, their best-laid plans – for their home, as well as for their life going forward – had been thrown into doubt. At town hall, clerks told them they may have to elevate their house as high as 11 feet above sea level on cinderblock walls. For a small house, that could cost $30,000. For a larger, more complex structure, as much as $100,000.
"It means we take out a mortgage on our retirement," says Ms. Beebe, who left with instructions to get an estimate and apply for federal assistance.
It's a frequent scene in Toms River and other battered New Jersey towns. Before Sandy arrived, the Federal Emergency Management Agency (FEMA) began redrawing New Jersey's flood maps to define which houses were at high risk as sea levels rise in connection with climate change. Now, in Sandy's wake, the potential costs of those calculations are hitting home for the Beebes and others.
Complicating matters is Congress's decision in July to end subsidies for federal flood insurance. Taken as a whole, it is a cautionary tale for the country, as many Americans – perhaps for the first time – discover how climate change can hit their pocketbooks.
Zoning official Bernard Mackle has worked in Toms River for 25 years, but he calls this "a new challenge." For his part, Mr. Mackle doesn't know if Sandy is related to climate change. Scientists point to overwhelming evidence that the world is getting warmer, and this has resulted in warmer oceans that fuel more extreme weather, as well as rising sea levels, which threatens coastal areas.
---