Sleet and snow can't stop the Postal Service – but Saturdays can
The US Postal Service will cut off Saturday letter delivery in August, but plans to continue delivering packages. USPS says the move will save $2 billion annually and help close a yawning budget gap.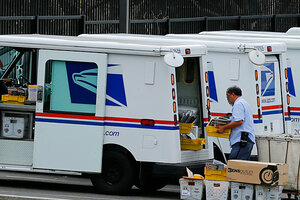 Mike Blake/Reuters
In one of its boldest cost-cutting measures yet, the United States Postal Service (USPS) announced Wednesday that it will eliminate Saturday mail delivery later this year, a move that should save the agency $2 billion in costs annually.
Saturday mail delivery is scheduled to stop the second week in August. However, the Postal Service said it will continue to deliver packages on Saturdays, citing recent growth in its package and shipping business. Package delivery has increased by 14 percent since 2010, according to the USPS, while annual mail volume slid 11.5 percent during that same period, as e-mail, online bill payment, and other Internet services rose in popularity.
"The Postal Service is advancing an important new approach to delivery that reflects the strong growth of our package business and responds to the financial realities resulting from America's changing mailing habits," said Patrick Donahoe, postmaster general and USPS chief executive officer, in a press conference Wednesday.
Under the new schedule, Saturday mail pickup and delivery at street addresses will cease Aug. 10. But mail delivery to PO boxes will continue six days a week, and post offices currently open on Saturdays will not change their hours.
The schedule change, which the Postal Service is pursuing without congressional approval, marks a dramatic new step in the agency's bid to close a yawning budget gap. The Postal Service reported an annual loss of $15.9 billion in fiscal 2012 – three times the loss recorded in 2011 – and defaulted on billions of dollars in retiree health benefits payments.
This year the agency needs to close a $20 billion budget gap. It hopes that $2 billion of that will come from ending Saturday letter delivery. Most of the projected savings would occur through a reduction in the size of the workforce by 45 million work hours, or 22,000 jobs. The agency said it planned to eliminate jobs through attrition and reducing part-time hours, not layoffs.
---