Armstrong sued for $12 million: Will Lance lose his victory bonus?
Lance Armstrong is being sued by a sponsor for $12 million in victory bonuses. His attorneys say the case has no merit, citing a settlement reached after Armstrong swore in court that he hadn't used performance-enhancing drugs.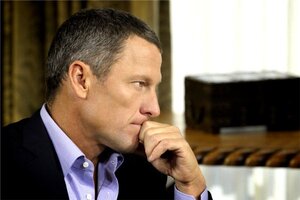 Courtesy of Harpo Studios, Inc. / George Burns / AP / File
Disgraced cyclist Lance Armstrong on Thursday was sued by a company that paid him about $12 million for three of his seven Tour de France wins that have since been stripped from him for his use of banned drugs.
SCA Promotions Inc, in a suit filed in Texas state court in Dallas, alleges Armstrong and his management company, Tailwind Sports, defrauded SCA into paying Armstrong $12.1 million in bonuses and interest for his 2002, 2003 and 2004 Tour de France wins by lying about Armstrong's use of performance-enhancing drugs during those events.
Last month, Armstrong ended years of vehement denial and admitted in a televised interview with Oprah Winfrey that he had cheated his way to a record seven Tour de France titles through the use of banned, performance-enhancing drugs.
Armstrong has been banned from cycling for life and stripped of race wins, including all of his Tour de France victories.
"Lance Armstrong cheated to win all of his Tour de France victories," SCA Chief Executive Officer Robert Hamman said in a statement. "He has admitted as much on national TV."
"As a result of Lance Armstrong's unjustly achieved victories and related activities, SCA paid $12,120,000 to Tailwind Sports Inc," Hamman said. "SCA also suffered reputational damage and substantial loss of business."
---