Terrorist tweets: how Al Qaeda's social media move could cause problems
Al Qaeda and its affiliates are moving onto social media after years of relying largely on chat rooms to spread their doctrine online, a study says. The trend raises a host of questions.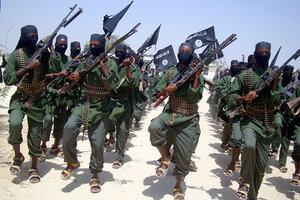 Mohamed Sheikh Nor/AP/File
Twitter isn't just for Justin Bieber – terrorists are tweeting, too.
Somalia's Al Qaeda affiliate, Al Shabab, might not have as many followers as Mr. Bieber (1,800 versus 34 million), but it is still microblogging to get its message out.
"Our war against the West is a war for the sovereignty and dominance of Allah's Law above all creation. No to democracy and #Kafir laws!" it tweeted recently, using the Arabic word for "infidel" to spread its propaganda.
At other times, Al Shabab has used Twitter to give supporters updates on its fight against Kenyan forces: "Mujahiddeen ambush #KDF convoy between Kudhaa & Kulbiyow, Lower Jubba, destroying 3 vehicles and killing 11 #Kenyan Soldiers #JihadDispatches."
After years of relying almost exclusively on websites and chat rooms to spread their doctrine online, Al Qaeda and its global affiliates are now beginning to embrace social media, according to "The State of Global Jihad Online," a study by the New America Foundation.
On one hand, Twitter and Facebook offer terrorists new tools. Yet in many ways, terrorists have only moved onto social media because governments and hackers are taking down the websites that are their online headquarters. The concern among some experts is that the West's efforts could backfire if social media proves more effective at winning converts than the traditional terrorist websites.
---