Blizzard 2013 storm prep sharpened by experience in Katrina and Sandy
Since Hurricane Katrina in 2005, American storm response has changed dramatically. The blizzard that swept across nine states in the Northeast US this weekend in many ways showed how.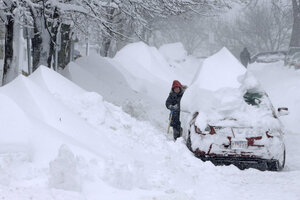 Gene J. Puskar/AP
With snow still falling and massive waves battering coastal villages in a nine-state New England region, it's still too early to gauge the true impact of the monster blizzard of 2013.
What's known, however, is that from airline cancellations to government edicts to a boom in individual disaster "prepping," the response to the Blizzard of 2013 differed at times dramatically from, say, the Blizzard of '78, which dumped up to 38 inches of snow on parts of New England, killing 99 people, some of whom died from carbon monoxide poisoning in their stranded cars.
Moreover, even lessons from hurricane Sandy, which raked the Northeast coast last year, killing 132 Americans and causing $71 billion in damages, were utilized in the run-up to the Blizzard of 2013.
Monster winter storm: five ways to stay safe and prepared
So far, five people are confirmed dead in the New England blizzard and 650,000 have lost power. Authorities are now focusing on a morning storm surge along the Sandwich area of Cape Cod, which will be the focus of the last tendrils of hurricane-like winds that fueled the whiteout conditions last night.
Nearly 40 inches of snow have fallen on some sections of Connecticut and wind gusts topped 80 miles an hour at the peak of the storm. So far, 5,300 flights have been cancelled across the region as most of the major airports, including Logan in Boston and JFK in New York City – were shuttered.
---