Is the South ready to say howdy to hemp?
Along with a federal bill, Kentucky is mulling the legalization of industrial hemp, marijuana's close cousin. Is it good business sense – or a Trojan horse for legalizing pot in the South?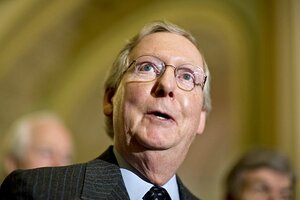 J. Scott Applewhite/AP
The Framers of the Constitution were big into hemp, and, after 56 years of prohibition, America is on the cusp of ending a hemp ban as part of a push to help farmers. The big question, though, is whether the South's conservative farm region can agree that hemp ain't pot.
As medical marijuana and pot legalization movements gain ground in Western and Northern states, the South, starting with Kentucky, may be moving ahead on pot's cousin, hemp, a flax-like fiber that proponents say has uses in 25,000 products and is already commercially farmed across a globe where marijuana is still largely outlawed.
This week, Sen. Minority Leader Mitch McConnell, teamed up with fellow Kentucky Republican Sen. Rand Paul and Oregon's two Democratic Senators – Ron Wyden and Jeff Merkley – to introduce a hemp legalization bill, saying, "This legislation has the potential to create jobs and provide a boost to Kentucky's economy and to our farmers and their families."
RECOMMENDED: 3 views on whether states should legalize marijuana
After years of debate about hemp's practical uses and potential boost to US agriculture, eight other states, all outside the South, have legalized hemp, though it's not being grown commercially because the federal government refuses to permit farmers.
---