Postal Service plans all-weather clothing line: Smart move or desperation?
You might not have thought 'haute couture' the last time you saw your postman, but that's about to change. The Postal Service is promising all-weather gear embedded with military tech.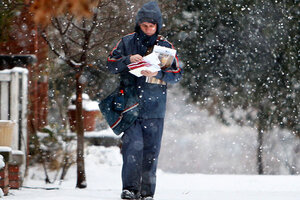 Paul Hellstern/The Oklahoman/AP
Well, we can't say we saw this one coming.
The US Postal Service, known more for its stalwart reputation – and financial woes – than its vanguard fashion sense, announced Tuesday it is launching a fashion line as part of an effort to generate revenue and build brand reputation. The surprise move has retail analysts impressed – and doubtful.
The announcement certainly hasn't left Gucci and Prada shaking in their stiletto-shearling boots. But considering the focus of the aptly named "Rain Heat & Snow" line – all-weather apparel – the venture starts to make sense. After all, who knows more about dressing for the elements than the Postal Service's hale and hearty letter carriers, for whom "neither snow nor rain nor heat nor gloom of night" thwarts achievement of their solemnly sworn duty. (No word yet on whether the apparel will be pit bull-resistant.)
Fortunately, the Postal Service is sparing us the baby blue button-down shirts and navy pant-shorts. It is working with Ohio-based apparel company Wahconah Group Inc. to create a line of innovative "functional fashion" that should hit stores in 2014.
"This agreement will put the Postal Service on the cutting edge of functional fashion," corporate licensing manager Steven Mills said in a statement Tuesday.
"We're talking all-weather, all-seasonal attire," says USPS spokesman Roy Betts. "A man's jacket which could be wired for you to click in your iPod and listen to music, control the volume, and make selections, all from the sleeve of your jacket."
In other words, the kind of hip athletic/tech/all-season apparel that might appeal to say, a computer-programmer-tech-enthusiast who enjoys listening to Linkin Park on his iPod while snowboarding with his buddies – in a Postal Service-emblazoned jacket, of course.
---