No more telecommuting? Not a problem for most American workers.
First Yahoo!, then Best Buy revoked their employee policies allowing telecommuting, stirring a furor in the blogosphere. The reality is that, for better or worse, few US workers enjoy that kind of flexibility, data show.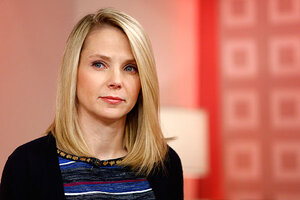 Peter Kramer/NBC/AP/File
The hubbub surrounding Yahoo! CEO Marissa Mayer's recent decision to suspend telecommuting at the Internet giant had not yet faded when word came this week that Minnesota-based Best Buy, the electronics retailer, now wants its corporate employees, who had enjoyed a flexible "performance-based" management system, to start working at the office.
Judging from the furor over these decisions to revoke telecommuting policies, both made by struggling companies who say they need workers to band together to help pull out of a slump, it may be tempting to think the Dark Ages have descended upon much of the American workforce. The reality, though, is that the share of American workers who telecommute remains relatively small.
Take Yahoo! Only about 2 percent, or some 180 of its 15,000 employees, is thought to be working full-time from home. Nationally, about 4.3 percent of the American workforce worked primarily from home in 2010 – up from 2.3 percent 30 years earlier, according to the US Census Bureau. About 10 percent of workers, meanwhile, report working from home at least one day a week. (That includes people who are self-employed or who do unpaid work for a family business, so the real number of telecommuters working for a nonfamily business is about half that, estimates Ravi Gajendran, an assistant professor of business administration at the University of Illinois, who has written and researched the subject extensively.)
---