Saving Detroit: New manager targets 'greatest turnaround' in US history
Michigan's governor has tabbed a bankruptcy lawyer to serve as the emergency manager for Detroit's financial crisis. He hopes to avoid bankruptcy, but wouldn't rule it out.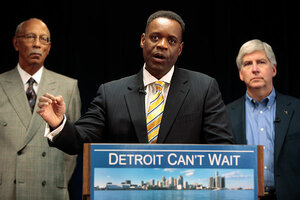 Rebecca Cook/Reuters
The man slated to guide Detroit to fiscal solvency in the largest state takeover of a city in United States history described his new job Thursday as "the Olympics of restructuring."
That could be an understatement.
Michigan Gov. Rick Snyder (R) has stepped in to appoint Kevyn Orr, a restructuring specialist who represented Chrysler during its 2009 bankruptcy, as emergency financial manager for the Motor City.
Mr. Orr comes to a city that is drowning under nearly $15 billion in long-term debt and undergoing major population loss. Moreover, the state's decision to intervene has been fraught with racial undertones, and the Detroit City Council has made it clear that it wants the governor to butt out. Some of the more than 40 unions currently under contract with the city are expected to take legal action if they're asked to take too large a cut.
Orr spoke to the difficulties ahead when he told reporters at his introduction Thursday: "If we can do this, I will have participated in the greatest turnaround in the history of this country and something I can tell my grandkids about. It is very inviting and exciting."
Earlier this month, Governor Snyder declared the city is suffering a financial emergency. A state review found Detroit has been dealing with annual deficits since 2005, and that it has unsuccessfully sought to fix them through long-term borrowing.
While Mayor Dave Bing says he intends to cooperate with Snyder and Orr, the city council has opposed state intervention since last summer, when members launched a legal challenge to the consent agreement that gave the state a larger role in overseeing the city's finances.
---