Sheriff vows not to enforce Colorado's tough new gun-control bills
The Colorado legislature has passed several gun control bills. If they're signed into law, one sheriff says he will not enforce them – mirroring the sentiments of many other rural sheriffs.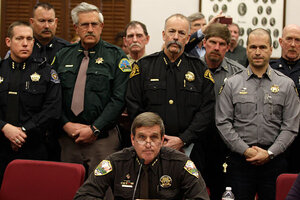 Brennan Linsley/AP/File
Colorado is on track to become the first state after New York to significantly increase gun control in the wake of the Newtown, Conn., shootings, with several bills passed by the legislature now awaiting an expected signature by Gov. John Hickenlooper.
The degree to which these measures get enforced, however, is a question mark.
Even before the bills had passed, the County Sheriffs of Colorado came out against the measures – urging a one-year wait after Newtown before any gun-control legislation was introduced. And now, at least one Colorado sheriff has said he doesn't support the new laws, and doesn't plan to enforce them.
"They're feel-good, knee-jerk reactions that are unenforceable," Weld County Sheriff John Cooke told the Greeley Tribune. "Criminals are still going to get their guns."
The prospect of vigilante cops selectively choosing which laws to enforce is disturbing to gun-control activists, who say Sheriff Cooke is essentially encouraging lawlessness. But Cooke's comments point to a deeper split in law enforcement that is mirrored nationwide, particularly on issues like gun control.
While the mostly rural county sheriffs have opposed the bills, the more urban and suburban Colorado Association of Police Chiefs has backed them. Here in Colorado – a bellwether state where the solid blue of its metropolitan areas is counterbalanced by the deep red of its traditional Western roots – the split is readily apparent. The gun-control bills here have been hotly debated and protested.
But the dynamics are the same across much of America, experts say.
"Most counties are predominantly rural, and sheriffs are elected officials responding to a predominantly rural constituency – they're not so enthusiastic about gun control," says Gary Kleck, a criminologist at Florida State University in Tallahassee. Police chiefs, on the other hand, serve in cities and suburbs where they're appointed by mayors.
---