Is Ben Bernanke angling for another four years as Fed chairman?
Asked directly, Ben Bernanke responded in part by brushing aside the idea of imposing a term limit. But he also said he's not uniquely able to 'manage the exit' from monetary stimulus.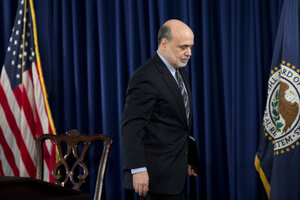 Manuel Balce Ceneta/AP
The chairman of the Federal Reserve, who often gets questions about the US labor market, fielded queries Wednesday about his own personal job outlook.
Specifically, the question for Ben Bernanke was this: Is he hoping to stay or will he go when his current term ends early next year?
He was noncommittal, but offered some grist for pundits and speculators.
At a press conference following a scheduled policy meeting, Chairman Bernanke told one questioner that he has spoken with President Obama, the man poised to decide who will sit at the Federal Reserve helm come 2014.
But Bernanke gave no hint of the content of the conversation.
Bernanke did open up on a couple of points, though.
First, he apparently doesn't support the idea that the Fed chairmanship should come with an eight-year term limit. One reporter asked about that, citing it as a common practice in Europe.
Bernanke declined to support the idea, and went out of his way to say the issue doesn't seem to be on the minds of Capitol Hill lawmakers, who can set rules for the Fed. Bernanke has served almost eight years, and predecessor Alan Greenspan served nearly two decades.
Second, Bernanke said he doesn't feel that, as the architect of an unconventional effort at monetary stimulus following the nation's deep recession, he's uniquely qualified to see that policy to conclusion.
"I don't think that I'm the only person in the world who can manage the exit," Bernanke told a second questioner, referring to the need to phase out a massive bond-buying campaign at some point.
---