Spammers vs. anti-spammers: 'nuclear' botnet attack bogs down Internet
A European group tracking spammers on the Internet maintains a blacklist of bad actors. Blacklisted sites are hitting back with masses of hijacked computers blasting digital junk at the anti-spam group.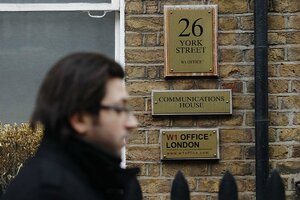 Luke MacGregor/Reuters
A digital firefight is bogging down the entire Internet thanks to botnets – masses of hijacked computers – employed by spammers as digital cannons to attack an anti-spam group.
So-called "distributed denial of service" or DDoS attacks are nothing new and barely raise an eyebrow among cyberwarfare experts. This is different. In this case it's the size of the attack that's garnering the attention – about three times larger than the largest previously recorded DDoS attack.
The target is Spamhaus, a European group that tracks spammers on the Internet. Much to the annoyance of spammers, Spamhaus maintains a blacklist of bad actors that it distributes to spam-blocking services worldwide. Blacklisted sites have hit back before – but never this hard.
Arbor Networks, a cybersecurity company monitoring DDoS attacks, says Wednesday's attack appears to be the biggest on record – about 300 billion bits (300 gigabits) per second. That's big enough to have an impact on data intensive services like Netflix, which was among services reportedly slowed by the attack.
"Arbor has been monitoring DDoS for more than a dozen years and we've seen attack size peaking at around 100 Gbps in recent years," says Dan Holden, director of ASERT, Arbor Network's Security Engineering & Response Team. "Today's attack appears to be significantly larger than that."
The monster attack began after Spamhaus blacklisted a Netherlands based web-hosting group called Cyberbunker earlier this month. Soon the DDoS tide was rising from routine surge to tidal wave proportions. One impact of the attack: Spamhaus website is blocked, although the company is still reportedly able to send out its list.
---