Armed teachers? NRA task force suggests voluntary program.
A task force commissioned by the NRA reported its findings Tuesday, including a proposal to train school personnel in firearms safety.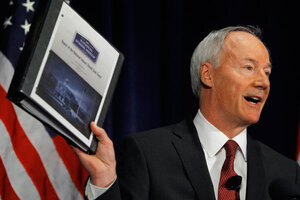 Gary Cameron/Reuters
A task force on school safety commissioned by the National Rifle Association raised the prospect Tuesday of arming school personnel – including teachers – after they have gone through comprehensive training.
Such a program would be voluntary, but could be crucial to halting an "active shooter" in a school and could save lives, said former Congressman Asa Hutchinson, director of the NRA's National School Shield Task Force.
"The key is reducing that response time," said Mr. Hutchinson, speaking at a press conference at the National Press Club, where he unveiled a series of recommendations by the task force.
The "model training programs" the report recommends would be available to both "school resource officers" – police officers assigned to a school – and to school personnel, and would entail 40 to 60 hours of training.
The report's release comes amid fierce debate on Capitol Hill over proposed federal gun legislation almost four months after the Newtown, Conn., elementary school massacre that jump-started national debate on firearms. President Obama heads to Colorado on Wednesday to call attention to new gun control measures enacted by that state, scene of two of the biggest mass shootings in US history.
---