Philadelphia priests scandal: 3 priests removed after sex abuse allegations
Philadelphia priests scandal: Three more Catholic priests were permanently removed from the ministry following a 2011 grand jury report that led to the conviction of a high-ranking Philadelphia archdiocese official on child endangerment charges.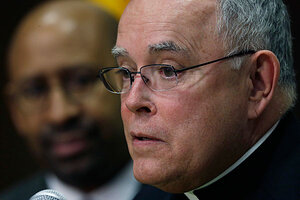 (AP Photo/Matt Rourke)
Three more priests were permanently removed from ministry by the Archdiocese of Philadelphia on Sunday, including one whose accuser killed himself after his allegation was dismissed by church officials.
The Revs. Joseph Gallagher and Mark Gaspar were suspended following a scathing 2011 grand jury report that ultimately led to the landmark conviction of a high-ranking archdiocese official on child endangerment charges. Two other priests and a Catholic school teacher were also convicted.
The February 2011 grand jury report prominently named Gallagher as a priest who remained in ministry despite apparently credible allegations of abuse. The grand jury said the archdiocese had found the allegation against him unsubstantiated despite the accuser's "obvious credibility."
"Our only problem is that it took so long," Marci Hamilton, the attorney for the family of Daniel Neill, said Sunday. Neill committed suicide in 2009, less than a year after being told his allegation of couldn't be substantiated.
Hamilton, who also represents two others who claim to have been abused by Gallagher, said the archdiocese's failure to act means Gallagher will never face criminal charges.
"Gallagher belongs in prison, but because of the Archdiocese's cover up, the criminal statutes of limitations for these victims expired long ago," she said.
In a statement, Archbishop Charles Chaput said he made the decisions he felt were "right and just" after the allegations against Gaspar and Gallagher were investigated and reviewed by an archdiocese board.
"The counsel provided by these experts, who have devoted their careers to combatting sexual abuse, is key to this work," he said. "I'm grateful for their efforts."
---