Boston attack: Swath of city on lockdown as police scour for additional bombs
Bomb attack in Boston that killed two and injured scores of others prompts a thorough police search for unexploded devices. One was already found and rendered harmless. Experts cite hard-to-detect nature of the bombs.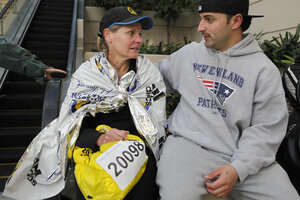 Melanie Stetson Freeman/Staff
State and city authorities are treating Boston as a city under attack.
After two explosions that killed two and injured dozens more near the Boston Marathon finish line, the city shifted in a heartbeat Monday from a festive day of sport to a lockdown environment. Police were seeking to protect marathon spectators and residents against the potential that additional bombs might go off.
"We are stabilizing the situation," Boston Police Commissioner Edward Davis said during a press conference about two hours after the blasts, which occurred at 2:50 p.m.
"We are asking that people stay out of crowds and calmly make their way home," Gov. Deval Patrick said at the news conference.
Commissioner Davis described the situation as "an ongoing event," implying the risk of further bomb attacks after the two that rocked the finish line in quick succession.
In the initial confusion of the day, it appeared as Davis spoke that another explosion may have already happened. The commissioner said officials were treating an incident at the John F. Kennedy Presidential Library, in the Dorchester neighborhood several miles from the marathon finish line in the Back Bay, as potentially related to the other explosions.
According to subsequent news reports, what occurred at JFK Library was a fire in a mechanical room. The cause remains unknown.
---