Boston Marathon bombs made with pressure cookers: Big break in case?
Reports suggest that the devices in the Boston Marathon bombings were put in pressure cookers. That suggests the bombs were unsophisticated, but experts warn against rushing to judgment.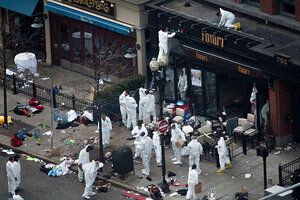 Shannon Stapleton/Reuters
The explosive devices used in the Boston Marathon bombings, as well as the crime scene itself, will be the "epicenter" of the massive investigation into who carried out Monday's deadly attack.
But information that the bombs reveal might not be enough to crack the case, and could even lead in wrong directions or to mistaken conclusions. Given the lack of any intelligence leading up to the marathon suggesting that an attack might be imminent, experts suggest that investigators will have to be particularly patient and painstaking, despite the national desire for a quick break in the case.
By Tuesday afternoon, for example, investigators said that pressure cookers had been used to encase the explosive devices – a rather crude method of construction that might suggest the involvement of an amateur "lone wolf" or point in the direction of domestic extremists.
But Islamist extremists in France tried to use pressure cookers last year in what officials there said could have been the biggest terror attack on French soil in years, until it was foiled. Likewise, US Army Pfc. Naser Abdo, who was convicted in 2012 of plotting to bomb a Texas restaurant where Fort Hood soldiers regularly ate, got the recipe for a pressure cooker bomb from an Al Qaeda website.
---