Boston Marathon bombings: tips for calming kids' fears after tragedies
Everyone from parents to teachers to mental-health professionals can have a role to play in helping kids after the Boston Marathon bombings, although what's appropriate can depend on a child's age.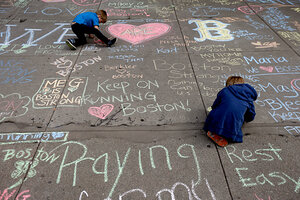 Matt Rourke/AP
There's no one-size-fits-all approach to talking with children about the deadly explosions that have been saturating the news this week – first bombs at the Boston Marathon, then an apparent accident at a fertilizer plant in Texas.
But there is plenty of expert advice about how adults can tailor their responses according to the signs of anxiety that children may show or the difficult questions they may ask.
"All kids want to know that they are safe ... [and] kids need hope for the future," says Gene Beresin, director of Massachusetts General Hospital Center for Mental Health and Media and a Harvard psychiatry professor. "Teachers, parents, clergy, coaches, guidance counselors: Everybody has a role to play here."
What's appropriate largely depends on the child's age.
Preschoolers should be shielded, especially from television images of explosions – since they may perceive that new explosions are happening each time they see images of the same event, Dr. Beresin and others say. Parents should carry on the routine as much as possible for young children, while perhaps offering more cuddles and comfort if a child seems to be picking up on adults feeling worried.
For young school-age children who are aware that something bad has happened, adults can speak in simple language about good people outnumbering bad people – and how much the police and other officials are "working 24 hours a day ... trying to make sure it doesn't happen again," suggests Donna Gaffney, executive director of the For Action Initiative, which sprang up to offer free age-appropriate lesson plans in the years following the 9/11 attacks.
---