Boston bombings: City finds healing in small deeds and interfaith gathering
At a crowded interfaith service three days after the Boston Marathon bombings and to loud applause, President Obama praises Bostonians 'resolve' and 'compassion.'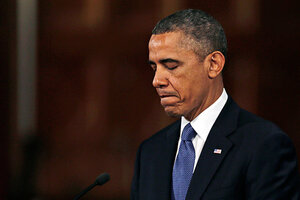 Charles Krupa/AP
Three days after bomb blasts brought a devastating halt to the Boston Marathon, an interfaith "healing our city" gathering served as a focal point for Bostonians struggling to find comfort, renew their spirits, and express their care for one another.
It revealed a city that, while shaken by the violence, hasn't been knocked off its feet.
"Your resolve is the greatest rebuke to whoever committed this heinous act," said President Obama, who flew with the First Lady to Boston to attend the event alongside local leaders. "If they sought to intimidate us, to terrorize us, to shake us from … the values that make us who we are, as Americans – well, it should be pretty clear by now that they picked the wrong city to do it."
Despite the somber occasion, Bostonians were in a mood to greet that sentiment with loud applause. And they rallied similarly behind the president when he tapped into the city's passion for sports, predicting that crowds would again line Boylston Street for future marathons and post-championship parades.
The appearance by the president brought needed encouragement to the city, as did the prayers offered by ministers and the remarks from others, including Mayor Thomas Menino and Gov. Deval Patrick.
But the event at the Cathedral of the Holy Cross in Boston's South End also showed Mr. Obama and other leaders drawing strength from this city and its residents.
---