Texas fertilizer plant blast: Was it 'freak accident' that tore town apart?
Authorities suspect the massive explosion in West, Texas, was an industrial accident – far from the first time that the building blocks of modern fertilizer caused heavy damage and casualties.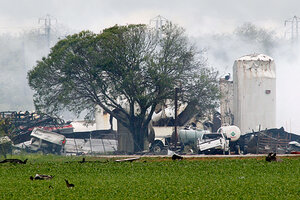 Paul Moseley/The Fort Worth Star-Telegram/AP
Search and rescue teams combed the devastated town of West, Texas Thursday after a massive explosion at a fertilizer plant killed as many as 15 people, including several volunteer firefighters, injured nearly 200 more residents, and destroyed dozens of homes.
While the timing and nature of the explosion aroused suspicions, coming after the Boston Marathon bombing and near the anniversaries of both the Waco Siege of 1993 and the Oklahoma City bomb in 1995, authorities and residents are leaning more heavily toward the theory that the fire and ensuing mushroom-cloud-causing explosion amounted to a tragic accident.
"It was one of them freak accidents," an employee at Bud's gas station said in a brief phone interview. "We've got a lot of damage."
The explosion occurred around 8 p.m. local time, 24 minutes after volunteer fire crews responded to a wind-fueled fire at the plant, which is located near a school, a residential neighborhood, and a retirement center, all of which sustained major damage in a blast that measured 2.1 on the Richter scale and could be felt in towns nearly 50 miles away.
Officials were zeroing in on a train car packed with ammonium nitrate as the main cause of the explosion.
"Today our prayers go out to the people of West, Texas, in the aftermath of last night's deadly explosion at a fertilizer plant," President Obama said in a statement. "A tight-knit community has been shaken, and good, hard-working people have lost their lives."
---