Immigration reform and Boston bombing: why some make a connection
Should the Boston bombing be part of the debate on immigration reform? Some say the proposal would make the US more vulnerable, but others say the discussion should not be so narrow.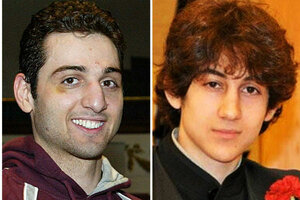 The Lowell Sun & Robin Young/AP
A new level of complexity emerged in the already tricky politics of immigration reform Friday, as reports about the immigration and citizenship status of the two Boston Marathon bombing suspects trickled out from unofficial sources.
Even as the Senate began hearings on a bipartisan proposal for immigration reform, and with a manhunt for the surviving immigrant brother suspected in the attack bringing Boston to a standstill, critics of the proposal suggested it would make the United States more vulnerable to those who would do it harm.
While security is certainly a legitimate topic for discussion, says Doris Meissner a senior fellow at the Migration Policy Institute in Washington and a former commissioner of the INS, it would be unfortunate if the Boston situation narrowed the immigration debate to security alone.
"A lot of people will use it to frustrate the immigration reform debate … which, prior to Boston, had finally broadened to be a much bigger discussion," including labor market and workforce issues, she says.
Early in the day, an uncle of the suspects said they had come here with their parents as refugees from the Chechen conflict about 10 years ago.
CNN and Judicial Watch both reported on Friday afternoon, from unnamed sources, that Dzhokhar Tsarnaev, the suspect still at large, was sworn in as a United States citizen on Sept. 11, 2012, and that his older brother, Tamerlan Tsarnaev, was a legal permanent resident.
---