United in adversity: West, Texas, prays for Boston, which sends pizzas to West
As refugees in West, Texas waited to return to homes devastated by a massive explosion at a fertilizer plant, their talk, concern, and prayers turned to the terrorist attack in Boston. 'I've never been to Boston,' one Texan commented, 'but now I really want to go. It seems like a cool city.'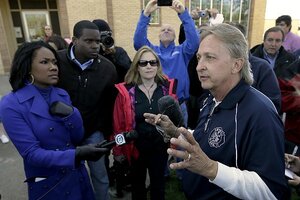 Charlie Riedel/AP
Lauretta Cvikel has her own problems. On Wednesday, she was knocked over by the explosion at West Fertilizer Plant, noting, "I never thought I'd be able see air move!" For another 20 minutes "that felt like forever" she didn't know the whereabouts of her pre-teen son, Allen, who was eventually found safe.
But as Ms. Cvikel tells her dramatic story, her thoughts suddenly wander eastward and to the North, to a manhunt and citywide lock down in Boston, which ended several hours later. Even as West continued to tally its casualties and homeless residents wandered around in their trucks, she noted, "I can't imagine what people in Boston are going through. We've been praying for them too."
Such reciprocal sympathies toward the end of inarguably the worst week of the year – terror bombs, ricin letters, rural explosions, shootouts and manhunts – also rubbed off on President Obama, who took a few minutes during his remarks on the capture of the Boston bomb suspect to mention the residents of West, Texas, saying, "We've also seen a tight-knit community in Texas devastated by a terrible explosion."
The phenomenon was in many ways natural: Victims of circumstance and tragedy easily empathize with others going through hard times. But it also pointed to a unique sense of national solidarity wrought by chaos and resolved by a sense of hope. "We are only beginning to make sense of a series of events that moved so fast, so furiously as to almost defy attempts to figure them out," explains Jesse Washington of the Washington Post.
---