Boston Marathon bombing: the blame game begins
Just days after the Boston Marathon bombing, the political maneuvering and blaming have begun. Some lawmakers fault the FBI for not following up on intelligence about one of the alleged bombers. Others want to prosecute the surviving suspect as an enemy combatant.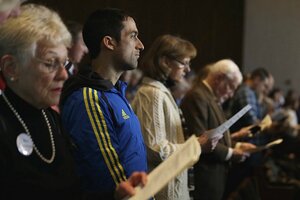 Julio Cortez/AP
It may be plainly obvious who was responsible for the horrific Boston Marathon bombing on Patriots' Day: ethnically Chechen brothers Tamerlan and Dzhokhar Tsarnaev, one dead in a shoot-out with police, the other seriously wounded and sedated in a Boston hospital where investigators are eager to interrogate him.
Unexploded bombs were found in their apartment, surveillance videos show them carrying heavy backpacks in the vicinity of and just before the explosions that killed three people and injured more than 180, and they are said to have acknowledged their responsibility to the driver of a car they hijacked.
But less than a week after a train of events that kept Boston-area towns on lock-down for days, the political maneuvering and blaming have already begun.
Russian officials warned the US about the older Tsarnaev brother – Tamerlan – in 2011. When Tamerlan returned from a six-month stay in Russia the next year, US officials questioned him and his family about any ties with radical Islam but determined that he was not a threat.
"The ball was dropped in one of two ways," US Sen. Lindsey Graham (R) of South Carolina said on CNN's "State of the Union" Sunday. "The FBI missed a lot of things, is one potential answer, or our laws do not allow the FBI to follow up in a sound solid way."
---