FAA furloughs staff: Sequest-Air has landed, and flights are late
The FAA has warned for some time that the impact of the 'sequester' on its staffing would be felt by air travelers. On Sunday, flight delays began stacking up above New York's, and other, airports.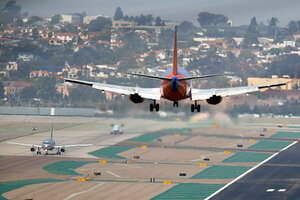 Mike Blake/Reuters
Planes arriving in the airspace above New York area airports Sunday night began to stack up in holding patterns, with delays ultimately stretching out to about 80 minutes. In Los Angeles delays on incoming flights were nearly as long.
On Monday, delays also began to mount, reaching nearly three hours at JFK Airport and more than an hour and a half at LaGuardia.
Travelers were not amused.
"Way to go, US transportation. You managed to delay my flight 3 times before canceling it and sending me to Orlando instead," tweeted Paul Murty. "Appreciate it."
Another flyer, Jake Bley tweeted, "Flight delay and I'm a grumpy cat."
Welcome to the new world of flying during the mandatory, cross-the-board federal budget cuts known as the "sequester."
Although the Federal Aviation Administration (FAA) has warned for some time that there would be delays, they have now actually started. The result: 400 delays on Sunday alone, according to the FAA.
The delays are a broadly felt nuisance. They add expenses to the airlines in the form of additional fuel costs; flyers are at risk of missing connections; and even some companies that provide overnight shipping might not be able to deliver packages on time.
"It is hard to dispute what this is being attributed to," says Mark Duell, vice president for operations at FlightAware.com, a flight tracking service based in Houston. "What the FAA is posting internally and externally is that the delays are related to staffing."
---