For Boston Marathon's charity runners, resolve and camaraderie unshaken
In the wake of the Boston Marathon bombing, the many athletes who run for charity are rallying around one another, their fundraising causes, and the larger Boston community.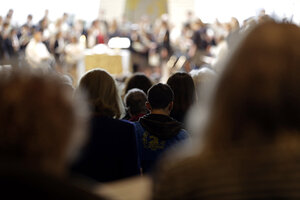 Julio Cortez/AP
Even before last Monday's tragedy, the Boston Marathon meant more to Cary Gemmer than a grueling 26.2-mile run and a free jacket.
A member of the Dana Farber Marathon challenge team, Ms. Gemmer has run for the past three years to raise funds for the Dana-Farber Cancer Institute, a cancer treatment and research center in Boston. "I couldn't imagine running the marathon without being connected to the cause," she says. "Everyone has a different story and reason for why they run, but we all have the same goal in mind."
Gemmer isn't alone. The terrorists who targeted the Boston Marathon with two bombs last Monday struck not only America's most iconic footrace, but also the infrastructure of charities that has become increasingly intertwined with the event. This year, 144 teams totaling more than 2,000 runners were expected to raise more than $18 million for Boston-area charitable organizations ranging from cancer clinics to charter schools.
In the wake of the tragedy, these groups of charity runners are rallying around one another, their fundraising causes, and the larger Boston community. Many are already making plans for how, next year, their participation in the marathon will be stronger than ever.
Marathon fundraising: a popular trend
Running for charities has become an increasing feature of marathons nationwide over the past 25 years. The four largest US marathons – the New York City, Chicago, Boston, and Marine Corps (in Washington, D.C.) marathons – all have official charity programs. But the Boston Marathon, as the oldest and perhaps most prestigious American marathon, has led the way with the oldest charity program and the most money raised.
---