A two-second rule for distracted drivers? Automakers asked to restrict tech.
In an effort to curb distracted driving, the Department of Transportation issued voluntary guidelines asking automakers to place restrictions on in-vehicle technology.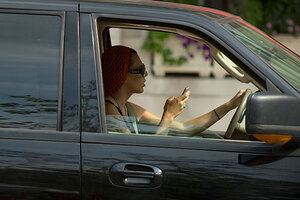 Ann Hermes/Staff
Transportation officials want you to take your eyes off the road for no more than two seconds at a time, and they are asking automakers to help.
New voluntary guidelines released Tuesday by the US Department of Transportation and the National Highway Transportation Safety Administration (NHTSA) seek to curb distracted driving by limiting drivers' use of in-vehicle electronics while the vehicles are in motion. The guidelines ask automakers to place restrictions on in-car technologies, especially those connected to the Internet.
Proponents say the voluntary guidelines, which are to be phased in over the next three years, will help curb distracted driving. But critics argue that the guidelines unfairly target automakers.
What's not in dispute is the growing impact of technology on driving. Federal data report that, in 2011, crashes involving a distracted driver killed 3,331 people and injured another 387,000. For teenagers, the problem is worse: Car accidents are the No. 1 cause of death of teens (indeed, of all people ages 5 to 34), and a quarter of all teen-driving crashes are attributed to distracted driving. And, despite an increase in bans on cellphone use while driving, an NHTSA survey released earlier this month shows that this usage has remained steady during the past two years.
---