Will flight delays stir up ire against sequester?
Rolling flight delays blamed on automatic government spending cuts imposed in March snarled some of the nation's busiest airports, testing how Americans will gauge Washington's sequester solution to spending and debt issues.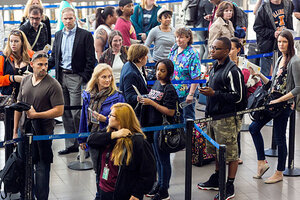 Damian Dovarganes/AP
Rolling flight delays. Cancellations. Heavy sighs and grim smirks in packed airport concourses. Has the sequester, Washington's much-debated automatic spending cut package, finally landed?
In response to the sequester deal struck by President Obama and Congress, the Federal Aviation Administration this weekend began to furlough its entire 47,000-person workforce (including 13,000 air traffic controllers) to abide by some $637 billion in automatic spending cuts that have to be made by October. The cutbacks mean each employee has to stay at home, unpaid, one day every other week.
The furloughs had an immediate impact on travel on Monday, contributing to two-hour delays at some key airports, including John F. Kennedy and LaGuardia in New York, as well as airports in Philadelphia; Los Angeles; Charlotte, N.C.; and Orlando, Fla. But though delays may again build throughout Tuesday, most problems early in the day – especially in New York – were tied to weather, particularly high winds, though experts said that could change as Tuesday wears on and delays pile up.
---