AP tweet that rattled stock markets exposes media vulnerability
The news media are relying more on social media – both as a reporting tool and to disseminate their own content. But a hack of the AP Twitter account shows how things can go wrong.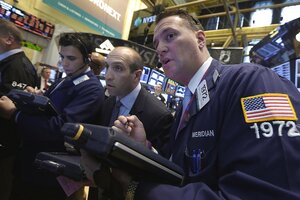 Richard Drew / AP
The hacking of the Associated Press Twitter account this week underscored the need for news media to protect themselves against future attacks.
Hackers sent out a false tweet on the AP feed Tuesday reporting that the White House had been bombed – causing a temporary $200 billion drop in US stock markets. The CBS flagship news magazine shows, "60 Minutes" and "48 Hours," also had their Twitter accounts hacked.
For news organizations whose reputations are built on credibility, the concern is real – particularly as social media feeds become an increasingly integral part of the news media's overall strategy.
"The media are really rushing to brainstorm about what they need to do to not only make sure that this doesn't happen again, but to reassure the public that they are reputable and trustworthy," says Peter LaMotte of Levick, a Washington D.C.-based public relations firm. "What is more concerning about this AP episode is that it went right at the heart of what the company is all about – its reputation for accuracy."
[Editor's note: The original version of this article misspelled Mr. LaMotte's name and incorrectly described Levick.]
---