Gun conundrum: Why is ammunition still in short supply?
Demand for bullets has surged, resulting in a shortage and skyrocketing prices. Some see a nefarious federal intent to take ammunition off the market. Others cite panic buying among gun owners. Where does the truth lie?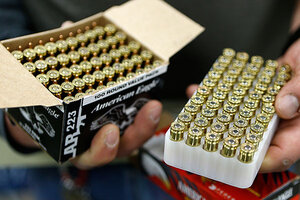 Keith Srakocic/AP
The joy many gun owners felt earlier this month when the Senate voted down new gun regulations has been tempered by a stark – and disappointing – truth: America is currently a country without enough bullets for sale.
It's not as if the nation's 27 ammunition manufacturers have closed up shop or are turning out fewer bullets than usual. But demand is outstripping supply, causing prices to spike and even some police departments to shift to air rifles for training exercises. And the shortage has not abated, although it's been more than four months since the mass shootings in Newtown, Conn., sparked a run on guns and ammunition, when it became clear Congress would take up gun control.
"It's impossible to get ammo right now," says Jan Dillard, an employee at David's Gun Room, in Norcross, Ga., where ammo shelves have been bare for three weeks.
What some call the great American ammo shortage is a head-scratcher even for experts, so far defying economic laws of supply and demand. Three causes are generally cited, though it's difficult to tell precisely how much each is to blame. First is panic buying among the gun-loving public, something that's been seen before. Second is a staid industry that, having not anticipated a demand surge, does not have a big enough supply of black powder and primer to quickly and significantly boost production to meet the demand surge. Third, and most controversially, is suspicion in some quarters that the federal government itself has deliberately placed a huge order for ammunition in order to drain the supply and cause bullet prices to jump for private buyers.
---