Terrorism in America: Is US missing a chance to learn from failed plots?
Including failed terror plots in US terrorism databases would make the US terror-threat picture more complete and provide important information for law enforcement, researchers suggest.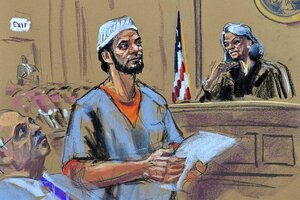 Jane Rosenburg/REUTERS
The terrorism threat facing the United States may be vastly understated, as well as inaccurately characterized, because so many "failed" terror plots are excluded from the nation's terror attack databases, new terrorism research suggests.
Despite a sharp decline in terrorist attacks since the 1970s, there still were 207 terrorist attacks recorded inside the US in the decade after 9/11 – about 20 per year on average, according to the Global Terrorism Database (GTD) maintained at the University of Maryland, widely regarded as the nation's most complete tally.
But what if those totals were, say, 50 percent higher? A researcher at the Naval Post Graduate School in Monterey, Calif., recently tallied 109 failed terrorist plots between 2001 and 2012, only a few of which were included in the GTD's national terror "attack" totals.
Yet those failed plots are perhaps just as important in their own way as plots that became actual attacks, some terrorism researchers say. Placing failed plots alongside successful attacks would make the US terror-threat picture more complete, highlight trends in terrorist targeting and methods, and possibly reveal a different – or even bigger – threat, they say.
"One finding from my research is that the terror threat within the US is higher than most Americans realize," says Erik Dahl, an assistant professor at the Naval Postgraduate School, whose research has identified 227 failed domestic and international terror plots of all kinds (Islamic jihadist, right-wing extremist and others) against the US dating back to 1987 – the vast majority excluded from national "attack" tallies.
---