Was Shane Todd murdered over high-tech secrets?
Shane Todd, a US citizen working in Singapore, believed he had access to restricted tech. His death in 2012 was by suicide, say local authorities. But his family, suspecting murder, wants the FBI to take part in the investigation.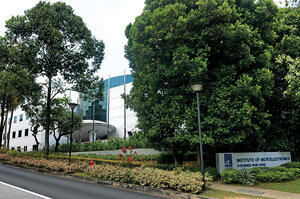 Roslan Rahman/AFP/Getty Images
According to Singapore authorities' official version of events, Shane Todd committed suicide one week before he was to return home to the United States. But his mother, Mary, doesn't believe that for a second. To her, he died an American hero, paying with his life for his refusal to allow China access to a restricted technology its military keenly wants.
Dr. Todd's death has already become an international incident, with the Todd family's cause taken up by three members of Congress and US Secretary of State John Kerry in private meetings with Singapore officials. Though Singapore will open a public investigation on May 13, the Todds want independent oversight and Federal Bureau of Investigation involvement.
But Todd's story is also the story of the technology his family says he died to protect, and it points to a shadowy world in which foreign actors go to great lengths to get their hands on sensitive US technology. While Mary Todd's accusations are far from proved, the gallium nitride (GaN) recipe that was in her son's mind and on his laptop computer could bring billions of dollars to Chinese corporations as well as radically improve China's military radar.
Those facts, and Todd's own premonitions that he had perhaps gotten in over his head, have turned his death into the latest example of the lingering American distrust over the rise of China and its military might.
"I saw some of the details of [Todd's] work," says Steven Huettner, a military radar expert who spent 30 years at defense industry giant Raytheon. "Until I saw them, I don't think anybody really understood the significance of what he was working on."
---