Fertilizer plant blast: Does post-9/11 secrecy make your life riskier?
Following the fertilizer plant blast, Texas cited terror concerns in withholding information on dangerous chemicals. Some say that secrecy deprives citizens of the ability to make decisions about their safety.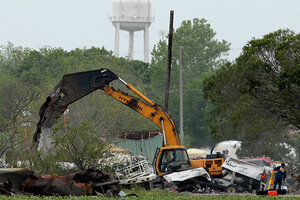 Charlie Riedel/AP
Before an ammonium nitrate tank blew up in the small central Texas town of West on April 17, with a blast so powerful it registered a 2.1 on the Richter scale, some residents said they were aware of possible dangers at the plant, while others said they had absolutely no idea that something could go so horribly wrong.
Two days after the Boston Marathon bombings, a fire at the West Fertilizer Company ignited a chemical tank, sparking a massive explosion that killed 15 people – 12 of them first responders – hurt hundreds, leveled a retirement home, and damaged a school and dozens of homes.
Whether or not widely available information about what could happen at the plant would have made a difference in how the town of West, over decades, snuggled homes and schools up to the facility's perimeter is perhaps impossible to answer – especially as, some economists have found, Americans tend to downplay the risk from high-risk jobs and living next to dangerous industries.
But attempts by Texas newspapers in the wake of the explosion to get more detailed information from the state about other local caches of ammonium nitrate have gone unanswered. The state cited terror-related secrecy concerns in refusing to divulge that information.
This raises a stark post-9/11 question: If, in the name of hiding sensitive information from terrorists, citizens are to be kept in the dark about hazardous materials and other potential dangers in their backyard, should not the state then take responsibility for ensuring that those products are well-regulated and under lock and key?
---