'Palestine' finds a new home as Google follows 'lead of the UN'
The Internet search giant Google said it was 'following the lead of the UN' in changing its references from 'Palestinian Territories' to 'Palestine.'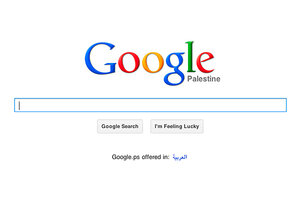 When the Palestinians won enhanced status for "Palestine" as a non-voting observer state in the United Nations General Assembly last November, the Obama administration and Israel blasted the move as unhelpful to the pursuit of Israeli-Palestinian peace – and cautioned against any "unilateral" moves affecting the conflict.
Apparently Google didn't get the memo.
On Friday, the Internet search giant announced that across all of its products, it will now refer to "Palestine" where before it used "Palestinian Territories." The change took effect May 1.
Google decided on its own – unilaterally – to make the change, but it did say in a statement that it was "following the lead of the UN." The Palestinian edition of the Google homepage now says simply "Palestine" where before it said "Palestinian Territories."
Not surprisingly, Palestinian officials are praising the move, while their Israeli counterparts view the move with suspicion – one wondering why a private company was putting itself on the "controversial side" of "international politics."
---