Tunisian national is accused of seeking US visa to plot terror
Tunisian Ahmed Abassi is charged with making false statements on immigration documents in order to engage in 'projects' related to future terrorist activities, including recruitment.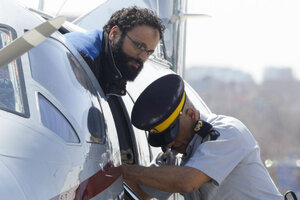 Chris Young/The Canadian Press/AP/File
A Tunisian national has been charged in New York City with fraudulently applying for a work visa so he could remain in the US to allegedly carry out terrorist operations on behalf of Al Qaeda in Iraq.
Ahmed Abassi has been in federal custody since April 22 and has pleaded not guilty. He was charged in a two-count federal indictment unsealed on Thursday.
It accuses Mr. Abassi of making false statements while applying for a green card and while applying for a work visa. Both false statements were allegedly made to facilitate an act of international terrorism.
Each charge carries a maximum term of 25 years in prison.
According to federal officials, Abassi's plans were discovered, monitored, and recorded by an undercover FBI agent who became a confidant of Abassi and another Tunisian national, Chiheb Esseghaier.
Mr. Esseghaier is in custody in Canada, where he is facing terrorism charges.
---