Team Obama edits to Benghazi talking points: the smoking gun?
The White House refused to concede on Friday that the administration's edits to a set of 'talking points' about deadly attacks on a US compound in Benghazi, Libya, were more than cosmetic. That is debatable.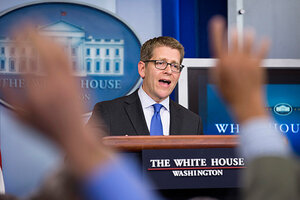 Joshua Roberts/Reuters
Top State Department officials pushed for edits in the talking points used by UN Ambassador Susan Rice in the aftermath of last September's deadly attacks on a US compound in Benghazi, Libya.
In particular, State Department spokesman Victoria Nuland objected to a paragraph detailing previous CIA warnings that extremists linked to Al Qaeda were active in the area, according to internal administration e-mails on the subject obtained by ABC News.
She thought this might reflect a CIA attempt to protect itself at the expense of State. In addition, it "could be abused by members [of Congress] to beat up the State Department for not paying attention to warnings, so why would we want to feed that either?" wrote Ms. Nuland.
Why is this important? It's important because the White House has long denied that administration officials made anything other than cosmetic changes to those talking points.
---