Unexpected twists in case of deadly blast at Texas fertilizer plant
A first responder to the huge explosion last month at a Texas fertilizer plant was arrested Friday for possessing a pipe bomb – but officials aren't linking his arrest to the deadly incident. The probe, however, is now a criminal matter, they said.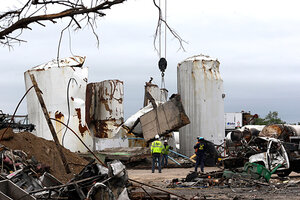 LM Otero/AP
The arrest Friday of a first responder to the deadly April 17 fertilizer plant blast in West, Texas, on explosives charges, is a new wrinkle that may call into question whether the incident that killed 14 people – including 12 firefighters and paramedics – was in fact a tragic industrial accident, as most people in the area believed.
Texas authorities arrested Bryce Reed, a paramedic with West Emergency Medical Services, at 2 a.m. Friday and have since charged him with possession of a pipe bomb. Mr. Reed was among those who responded first to the fertilizer plant explosion and served for a time as incident commander at the site. He was also shown giving a taped eulogy for explosion victim Cyrus Reed at an April 25 memorial in Waco, Texas, attended by President Obama.
Police have neither confirmed nor denied that Reed's arrest is tied to the plant explosion. However, authorities said Friday that the Texas Rangers and the McLennan County Sheriff's Department have launched a new criminal probe into the incident, with Texas Department of Public Safety chief Stephen McCraw pledging that the state will "leave no stone unturned."
"Keep an eye on this story, perhaps especially on the federal involvement," writes Hot Air blogger Ed Morrissey. "Until now, no one had intimated that this might be a deliberate act."
---